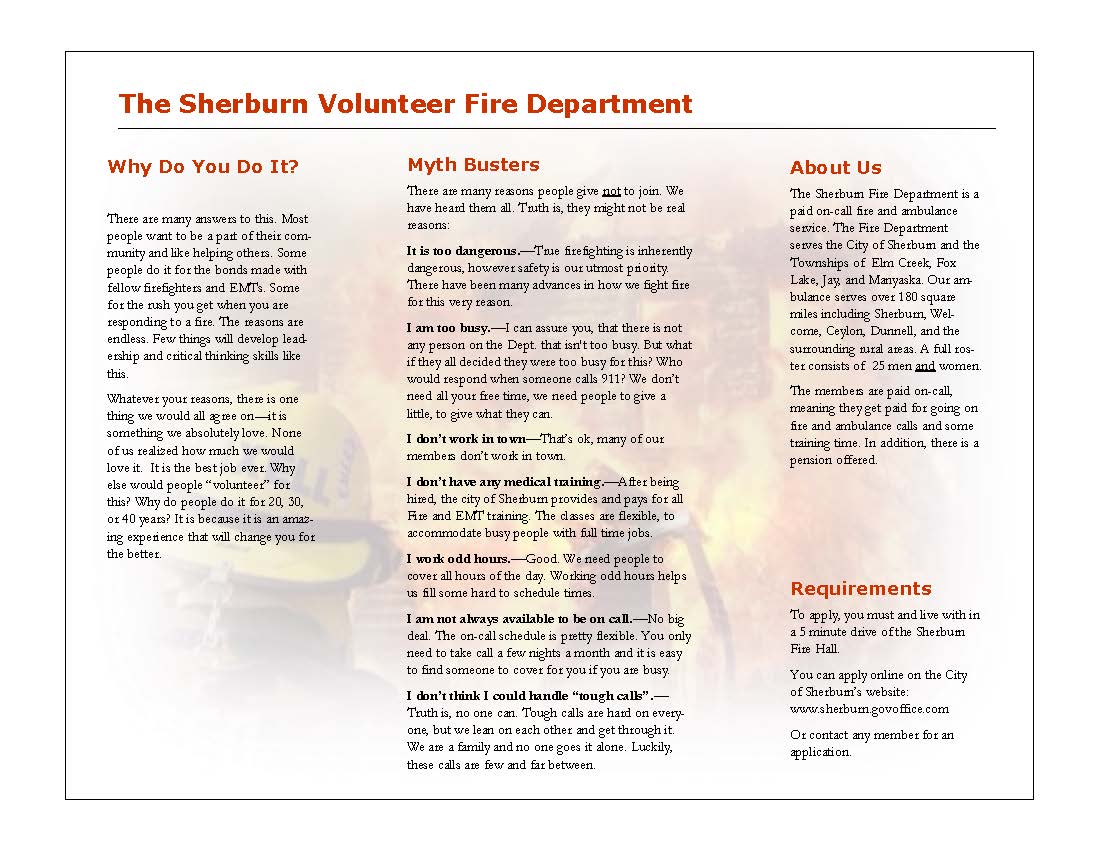 The Sherburn Fire Department is hiring. The Sherburn Volunteer Fire Department is a paid on-call fire and ambulance service. The Fire Department serves the City of Sherburn and the Townships of Elm Creek, Fox Lake, Jay, and Manyaska. Our ambulance serves over 180 square miles including Sherburn, Welcome, Ceylon, Dunnell, and the surrounding rural areas. A full roster consists of 25 men and women.
The members are paid on-call, meaning they get paid for going on fire and ambulance calls and some training time. In addition, there is a pension offered.
1 East Temperance Lake Road
Sherburn, MN 56171
Phone: (507) 764-6501
Email: fdchief@cityofsherburn.com
The Sherburn Fire Department would like to remind you that a clearly visible, accessible fire hydrant could save your home – or even your life. If a fire hydrant is lost or buried in snow, firefighters can lose valuable time trying to locate it when they first arrive at a fire. You can perform a valuable public service and protect yourself, your family and your neighbors by taking the responsibility for shoveling out and clearing any fire hydrants near your home during and after a snowstorm. With more snow sure to be on the way, we'd like to offer these suggestions:
Know the location of all fire hydrants in your neighborhood.
Make sure they are shoveled clear after each snowfall.
Clear away any snow and ice in the area surrounding these fire hydrants.
Clear the snow three feet all around the hydrant so firefighters have enough room to connect a hose.
We would also like to remind you to look out for your elderly or handicap neighbors as well, by taking a few extra minutes to shovel out their hydrants.
Please take some time now to save precious minutes in case of a fire. A few scoops of snow today could make all the difference later. Thank you for your cooperation!
Fire-EMS Application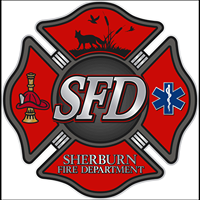 Officers
Fire Chief - Mike Ringnell
Assistant Chief - Sam Meixell
Assistant Chief - Paul Schoen
Secretary - Travis Winter
Ambulance Director - Brad Ringnell
Trustee - Amy Winter
Trustee - Brad Tadlock
Trustee - Tyler Sinn